Library Collection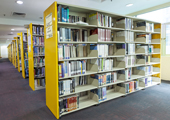 Open Collections
Located on the third floor of the library. The open collection consists of general books and materials in various subject areas that can be checked out from the University library.
---
Red Spot Books
Located on the first floor of the library, the red-spotted reference collection covers rare books and also books on various subjects that are ideal for students conducting their research references. Furthermore, the collection also includes AV materials such as DVDs and music CDs.
---
Audio Visual (AV) Materials
There are audio visual materials (AV) such as tapes, video cassettes, CDs (audio and video), DVDs, as well as music CDs.
---
Reference Collections
The reference collections refer to reference books such. These are non-circulating items which are to be used inside the library only.
Dictionaries
Bound Magazines
Theses
---
Serial Collections
Light reading periodicals which include stories, articles, etc.